Life isn't so scary for Spice-free Geri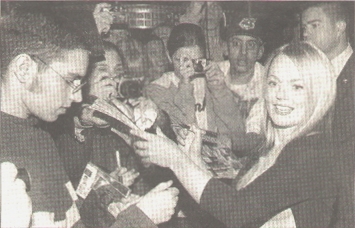 Solo Spice: Halliwell signs sutographs for New York fans Friday.
From a USA Today article, April 12, 1999
NEW YORK -- "It was a whirlwind romance. But like one in three marriages, it didn't work." That's how Geri Halliwell, the artist formerly know as Ginger Spice, describes her tenure with the Spice Girls -- whom she left last year -- at a news conference here Friday.
Halliwell, 26, was in town as part of a week-ling, worldwide blitz intended to whet appetites for her first solo album,due this summer.
The singer's new label, Capitol Records, invited high school reporters as well as professionals to hear the bouncy first single, Look At Me -- which goes to radio May 17 -- view its campy, black-and-white video and ask the newly strawberry-blond bombshell questions.
"Look At Me is about how we're all obsessed with image," says Halliwell, decked in a tight, hot-pink shirt and matching pumps. Of the video -- in which she protrays a bride, a nun, harried career woman and vamp -- she says: "It's four generalizations of women. We're all guilty of being servants of what we look like. But I'm laughing at myself, too."
In a pre-conferance interview, the wannabe solo star spoke of life without Spice. "Ginger is still a part of me. She's like my left thigh, from my hip to my knee." Yet her exit was inevitable: "Everything has it's time span, and I wanted to go out on top.... Sometimes I think I've got Hamlet's disease of introspection."
Halliwell was more evasive addressing rumors that a rivalry with Melanie "Scary Spice" Brown precipitated the split. "Scary and I were best of friends, and I think sometmes you take things out on the ones you love the most. But I wouldn't be here wihtout" the Spice Girls.
Nonetheless, Halliwell seems quite content alone in the spotlight. Greeting the media, the singer exuded the breathless girly energy of a Junior Miss contestant, whether promoting her artistry -- "I love to sommunicate wit people ... to give you something smart and intelligent" -- or discussing her involvment in promoting breast-cancer awareness and the United Nations.
"I think Girl Power has evolved," Halliwell says. "It's more about people power....I'm trying to take it one step further."¤