Geri Desktop Backgrounds & Stuff

This section will have nifty Geri backgrounds for your computer desktop, (made my little ole me.) 
And hey, don't steal these and put them on your site. I, myself, me, moi, made these all from my little 
monkey mind, and I will get really pissed if you steal them and try and take credit. They are meant to be 
saved and used on your computer for personal use.
If you use these on your page, e-mail me first to ask permision. If I find it one your page if you 
didn't ask me, I'll be way pissed. that would not be good for you.
Desktop Backgrounds

c

All backgrounds are 800x600 resolution only

to set the background on your desktop, on your mouse, right click on the full size pic and choose "set as wallpaper". Or you can save it on your computer, and use a picture program to set it as background.

If the picture is bigger than your sceen, it shouldn't matter, cause it will fit to the size it has, or should anyways.

These backgrounds you can also use on your computer desktop. Right click them and choose "set as wallpaper" and they should tile on your desktop. If it doesn't tile, (this is for windows) go to your desktop and right click and then go to "properties". Click on the background tab and under the "browse" button there should be "Display" then, "tile" & "center". Select tile. There ya go.
Paper Doll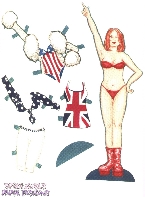 Here is a cool little Geri paper doll I got from a special Geri magazine, Geri Ginger Spice EXPOSED. The paper doll was included in the magazine as a 'Free Giveaway'. All © are to Hit Sensations Music Series Presents.
Please do not take the paper doll and put it on your page. It is meant for you to print out and play with :o)